Sophie Trigger | The Marlborough Express, 4 Mar 2020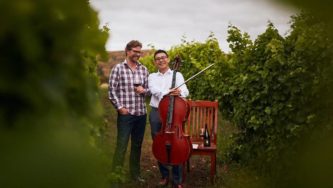 Every time Marlborough cellist Elgee Leung drinks a gran reserva  or gran arzuaga he gets to thinking about a Spanish cellist composer's music, Cassado, and he will literally play the music in his head when he drinks the wine from his favourite winery in Spain.  Music and wine is purely an artistic connection."Sometimes when I drink a bottle of wine I think of a particular piece of music," Leung said.
At a concert titled 'Die Innere Stimme', which translates to 'the inner voice', he will feature three traditional German musical works performed by a cello and piano duo, with a wine tasting from Clark Estate served in the intermission.  Leung will play the cello alongside world-class pianist Dr Michael Tsalka, who has 23 CD records and tours the world as a solo musician.
He said Clark Estate winemaker Simon Clark had chosen a selection of wines from the reserve range that captured the "tension" of the three German pieces of music being played.  They hoped the concert would spark the same love of music and wine that Leung and Clark both share.
"I am from a musical background and Simon's been an amateur trumpeter, and now he plays the french horn in my orchestra. We met because of music and we developed our friendship because of wine and music.  "People will love the connection between wine and music so they can enjoy both sides of this event."   Elgee Leung conducts the Marlborough Civic Orchestra and works at Clark Estate.