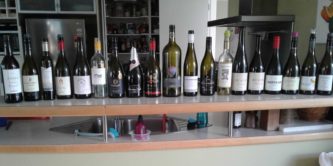 Another successful Cellar Club year started with a BBQ, several tastings, the AGM, another tasting, then mid-year dinner, followed by several more tastings, then finally a very successful end-of-year dinner.
In upholding tradition, and as a way of celebrating the committees' work throughout the year, the club's President hosts an end of year celebration for committee, partners and guests. Each year we celebrate by sampling each other's favourite wines along with a grand selection of food. This year we were fortunate to sample many labels who have presented to the club and some who have not. The wines came from the labels La Cilla, Hunters, Clearview, Ruby Bay, Alpha Domus, Awatere River, Rapaura Springs, Lindauer, Okahu Estate, Tyrells, Old Coach Road, Olssens, Ransom, Dry River, Rod MacDonald, Rockburn, and Ash Ridge. A large and diverse range that could have gone down well at any tasting.
Thanks to our gracious hosts, club President Murray and Dina, who organised (with the gods) great weather for the event, along with the committee, wishes members and guests a joyous and safe Christmas. We look forward to seeing you all during 2019 starting with the BBQ in January. Details to come.
Koa Kirihimete
Merry Christmas
From the committee