A great presentation from Guillaume with assistance from Esther. There was a good turnout of members and Maison Noire was more than happy with the level of the orders. A little glitch with getting some orders to members, but this is about sorted now.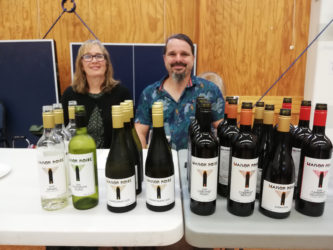 Guillaume has concentrated on bringing out those aspects of the wine that were very reminiscent of France & presented:
2018 Maison Noire Rosé
2019 Maison Noire Arneis
2015 Maison Noire Sauvignon Blanc
2018 Maison Noire Chardonnay
2015 Maison Noire Cabernet Franc
2016 Maison Noire Cabernet Merlot
2016 Maison Noire Syrah
An interesting aspect of the night was that members were able to pay directly to Maison Noire. The marvels of modern technology, particularly when it comes to taking your money from you.