Less than two months now, so thoughts turn toward?

We discussed this with members a little earlier in the year and have made the decision to opt for a Saturday for the December Dinner this year.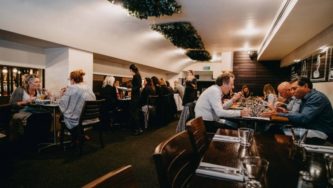 We believe that this will be convenient for most members. So we are off to Juniper, corner Featherston and Johnston Streets in the CBD for this year's dinner.
We are working on final details for the menu and pricing. Wayne will supply members with a combined "payment advice' form before the November tasting. So forget about second Wednesday of the month this time and put 8 December into your diaries.
We are sure it will be a great event. As I say, more detail from Wayne shortly.
Wednesday 13 December 2017, 7.00pm start for 7.30pm sit down

By now you will studied the menu and indicated to Wayne with regard to your dinner choices.  There really isn't much more to say.  Looks like a great turnout and we are looking forward to the event.  Unfortunately, or from our point of view perhaps, fortunately, we have the maximum number committing to attend and we are unable to accept any last minute requests to attend if people's circumstances have changed.  For those who are coming can we please ask you not to arrive before seven.  Your committee will generally be arriving from work and will have some arrangements to sort.  We would appreciate a bit of time to get things set up and members could help us by turning up from 7 pm, not earlier.
Wine for the December Xmas Dinner
2017 has been good for the club with great support from our presenters regarding the costs of their presentations etc. So for the December Dinner, we have decided to return the favour by purchasing some bubbles that are a little more expensive than normal. The wine we have chosen for you to enjoy won Gold at this year's Air NZ wine awards and then went on to receive the Trophy for the best Sparkling White on show. So when you arrive at the dinner venue, you will receive a glass of chilled Aotea, a non-vintage Methode Traditionnelle sparkling wine from the Seifried family in Nelson,
There is an interesting backstory to this wine and we have included a quote from Anna Seifried.  Anna is understandably stoked with this win.  Enjoy the evening and the wine treat.