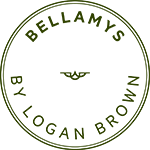 Turnout For the 40th Anniversary dinner at Bellamy's by Logan Brown was excellent.
The one thing the Committee was unable to organise was the weather on the day. It was wet and windy which cast doubt on the suggested dress code of "summer wedding", but by 6 pm the rain had substantially abated and by the time it arrived to go home, it was dry.
The venue proved to be a good choice. Negotiating the security on arrival proved not to be an issue and when guests got to the third floor of the Beehive, Bellamy's reception and dining areas were spacious, allowing for good pre-dinner mixing over a complimentary glass of bubbles. The tables were well spaced and set very nicely.
The food was of a very high standard as would be expected from a restaurant in the Logan Brown stable. The restaurant staff was very efficient and attentive – it was nigh on impossible to fault the service. The manager, Jasper Povey, had been very accommodating in catering to the Club's requirements and was also appreciative of what the Club was able to provide (such as the pre-ordering), which proved a winning combination.
Club President, Murray Jaspers, gave a brief address, looking over the Club's development through the years. He noted how active it is, how its size has been maintained over an extended period and the high regard it enjoys with winemakers and suppliers. He noted too, the contribution of past presidents and committees. Anne Megget proposed a toast to absent friends – those members who are no longer with us and those who were unable to be present on the night.
Through diligent work by Robin Semmens, Gayle Gaukrodger, Anne Megget and Wayne Kennedy a memento gift bag containing a souvenir pen, some souvenir chocolate and a booklet updating the history of the Club was presented to every person present.
Feedback the Committee has received subsequently indicates the evening was much appreciated by all who were there. Good venue, good food, good wine and good company always combine to produce a winner!
Richard Taylor