Morgane Solignac | Stuff Apr 29 2021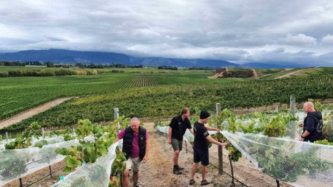 A dearth of grapes this vintage has forced a family-owned winery in Marlborough to turn down a new customer in Europe. But it's not just the smaller operations struggling. One of the biggest players in the global drinks industry, Pernod Ricard, is also reporting it is unable to meet the global demand for Marlborough wine this year, in particular sauvignon blanc, due to the region's low yield.
One estimate puts the take of sauvignon blanc grapes down 30 per cent against long-term averages, due to early frosts and cool weather during the flowering season.
A Pernod Ricard Winemakers spokesperson said the company was in talks with its partners to determine how it should prioritise supply for customers "in the context of the strong ongoing global demand for the sauvignon blanc category".
The volume shortage meant the family-owned Marisco Vineyards had to walk away from a deal in Germany to make sure it could supply its long-time customer base.
Marisco Vineyards general manager sales and marketing Siobhan Wilson said the winery, which employs about 80 people, didn't want to sacrifice one market for another.
"The key focus for us this year is to look after the partnerships we've developed over the years … We have a long-term contract with annual supply conversations starting around January-February, which is tricky as vintage happens [March-April].
"So I have to take what our customers would like versus what we have got coming in."
Marisco started blending this week, so it would have a full picture of what was available, and when, in the next couple of weeks, Wilson said.
New Zealand Winegrowers chief executive Philip Gregan said Aotearoa hit a record-breaking $2 billion in New Zealand wine exports at the end of last year.
"Exports to our key international markets have increased beyond expectations over the past 18 months, and we saw an increase of 19 per cent for the first four months of the new export year (July to October 2020), at the same time in 2019.
"We are already seeing supply and demand tension as a result, and we expect that many wineries will face tough decisions on who they can supply in their key markets over the next year," Gregan said.
And while increased demand and reduced supply might push up prices, Wilson said they had to be careful.
"We are not just going to put the price up because it is in short supply, because next year what happens if we have a bumper vintage, and we've got plenty of wine, do you then discount it?
"What is important when you are selling wine, and when you are building a brand, is a consistency of quality and price.
"So, we all have a responsibility to ensure that we sell at a good price and the right price," Wilson said.
Ongoing labour shortages, due to the closure of New Zealand's borders and the restricted number of RSE workers, had also piled pressure onto wine companies.
Wilson said they had challenges coming at them every day and a short vintage was just one of them.
"We have got massive challenges in Marlborough getting wine shipped offshore because of the shortages of boats coming in, the restriction of space … and it is all the result of the pandemic.
"At Marisco Vineyards we are really resilient, my team have been working for me for a long time, and they have experienced many challenges over the year, so we just deal with it.
"The key thing is the communication with our customers and being really honest with them about the situation," she said.