Quality and consistency have put Seifried Family Winemakers on the map with their 2019 Nelson Sauvignon Blanc releases – awarded a combined haul of seven gold medals and the "Best of Show" trophy.
The winery's premium Aotea by the Seifried Family Sauvignon Blanc 2019 has been awarded three gold medals across New Zealand and international wine shows, including the title 'Best of Show NZ White' in the MUNDUS VINI 2019 in Germany. Their Seifried Nelson Sauvignon Blanc 2019 has now achieved its fourth gold medal since release to market.
Both Sauvignon Blancs have just been awarded gold medals at the 2019 New Zealand Wine of the Year™ (the official NZ wine industry competition, replacing the Air New Zealand Wine Awards). Recognition at these awards is particularly huge, given the hundreds of entries. An accolade at this competition is about celebrating New Zealand winemaking excellence, and is a win that is proudly shared among the whole team at Seifried.
Seifried Estate says that although it is a small grape growing region, Nelson's climate and talent for crafting world class wine is clear. "We're so proud of the recognition for our team's commitment and hard work to making great wines. We're also very proud of Nelson / Tasman and our fellow growers and producers, many who, like us, started from humble beginnings.
Combining the famous creative artisan spirit with the soil and climate in this special place at the centre of New Zealand, Nelson is a region known for some of the finest food and beverage products in the world.
We're incredibly proud to call this place home." – Seifried Estate Sales and Marketing Manager, Anna Seifried.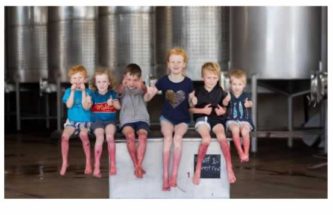 Proven over time – a snapshot of achievements:
The accolades begin with New Zealand's most awarded dessert wine, Seifried Winemakers Collection Sweet Agnes Riesling. Awards include 'Champion Sweet Wine' at the 2015 Air New Zealand Wine Awards, as well as 'Best New Zealand Sweet' at the UK Decanter World Wine Awards 2017 – to name a few.
Seifried Nelson Pinot Noir has had its share of recognition and was named as a "Rising Star" in the '2019 Great New Zealand Pinot Noir Classification' which lists only the top quarter of New Zealand's Pinot Noir producers.
It's not always the garden varieties associated with Nelson or New Zealand either. Aotea by the Seifried Family Méthode Traditionnelle NV took out the 'WineWorks Champion Sparkling Wine' at the 2017 Air New Zealand Wine Awards.
The family is working hard with some lesser known varietals too, such as the Seifried Nelson Würzer, an aromatic white wine found only in very small quantities, even in its home country of Germany. Seifried Nelson Zweigelt, the Austrian classic, made with a Kiwi twist is another – "Great stuff for someone looking for something different. Real presence and grip.
Further information –
Aotea by the Seifried Family Nelson Sauvignon Blanc 2019
'Best of Show New Zealand White' – MUNDUS VINI 2019 Summer Tasting, Germany
Gold – MUNDUS VINI 2019 Summer Tasting, Germany
Gold – New Zealand Wine of the Year™ 2019, New Zealand
Gold – AWC Vienna 2019, Austria
94 Points – Bob Campbell MW, ©The Real Review, therealreview.com, August 2019
Seifried Nelson Sauvignon Blanc 2019
Gold – New Zealand Wine of the Year™ 2019, New Zealand
Gold – The New Zealand International Wine Show 2019, New Zealand
Gold – AWC Vienna 2019, Austria
Gold – MUNDUS VINI 2019 Summer Tasting, Germany
93 Points – Cameron Douglas MS, The Shout, August 2019, New Zealand
List of recent awards
New Zealand Wine of the Year™
GOLD: Aotea by the Seifried Family Sauvignon Blanc 2019
GOLD: Seifried Nelson Sauvignon Blanc 2019
Silver: Seifried Nelson Gewurztraminer 2019
25th Grand International Wine Award MUNDUS vini
"Best of Show New Zealand white": Aotea by the Seifried Family Nelson Sauvignon Blanc 2019
GOLD: Aotea by the Seifried Family Nelson Sauvignon Blanc 2019
GOLD: Seifried Nelson Sauvignon Blanc 2019
AWC Vienna – International Wine Challenge
GOLD: Aotea by the Seifried Family Sauvignon Blanc 2019
GOLD: Seifried Nelson Sauvignon Blanc 2019
Silver: Old Coach Road Nelson Sauvignon Blanc 2019
NZ International Wine Show
GOLD: Seifried Nelson Sauvignon Blanc 2019
GOLD: Seifried Winemakers Collection Nelson 'Sweet Agnes' Riesling 2019
Silver: Seifried Nelson Riesling 2019
Silver: Seifried Nelson Pinot Noir Rosé 2019
Contact
SEIFRIED ESTATE
Chris Seifried – Winemaker
Email: chris
Tel: +64 3 544 5599
Cell: +64 21 544 750
www.seifried.co.nz