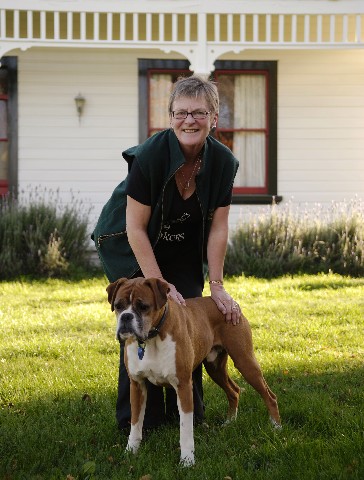 Being the first vineyard in Gladstone in 1986, Christine and David Kernohan took over the vineyard in 1996. Only 20km from Martinborough, GV soils exhibit similar properties probably due to its proximity to the old terrace riverbed of the Ruamahanga River.
With ideal soil conditions, free draining stony silt loam for growing vines, production has steadily stepped up over the past 20 years. Christine mentioned the wine growing area in Gladstone is in the process of identifying its own sub-region characteristics.
The wines from first impressions seemed to be a little flat. First impressions can be deceiving as they were in this case. The bouquet for most wines were on the light side but still clean and fresh.
The 2014 Viognier gave a hint on lemon peel and spice with a dry, ripe apricot finish. The GC Sauv. Blanc hinted at young pineapple and again a dry, crisp lingering (for more) finish. The Pinot Gris offered up fresh melons with off-dry ripe stonefruit to finish and the Rosé, made from Bordeaux-style grapes. strawberries and cream, beautiful and elegant.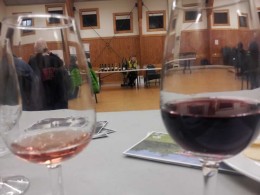 Into the reds. The tasting notes were not wrong. What they don't mention is their elegant subtle perfume and rich long finish. 12.000 Pinot Noir offered hints of blackberry and liquorice with a savoury finish.
Despite a wet few months before picking, the 2011 GV Pinot Noir displayed a warmth from the extra time on the vine allowing the tannins to build. This would go perfectly with lamb or pork infused with Asian-inspired flavours; star anise, dark soy, sugar and salt.
The club appreciates Christine's time and wonderfully crafted wines. Now looking forward to how 2014 Pinot's stack up.
Cheers, Steve
Event details
Venue: Johnsonville Community Centre Hall, 30 Moorefield Rd, Johnsonville, Wellington 6037 – Directions
Cost: Members $12, Guests $16
Presenter: Christine Kernohan – Chef winemaker, Gladstone Vineyard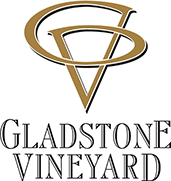 Background:
Christine is the chief winemaker at Gladstone, involved in all stages of winemaking and manages the business. One of only three Scottish women winemakers in the world (not being a common career aspiration where or when she grew up). Christine 'fell' into the wine industry after a happenstance visit to Gladstone Vineyard with David one spring weekend in 1995.
She previously worked in the computer industry in business analysis and project management and was also involved in social research and agriculture industry research. She has an MBA from Massey University and farming experience from involvement in a goat, sheep and beef farm at Hunterville.
Gladstone Vineyard was the opportunity to run her own business, bring together the rural life with business, and apply her scientific bent from way back.
David Kernohan is owner/taster, architect and former Associate Professor at the School of Architecture at Wellington's Victoria University. He has been operating his own research and building heritage consultancy, Architecture Diagnostics, from the vineyard for the past eight years.
He is the author of five books on architecture including Wairarapa Buildings published in 2003. David is a Deputy Environment Commissioner, was co-author of the Hunn Report on the weather tightness of buildings that precipitated the Building Act 2004, and is a former Director of Wellington Waterfront Limited.
'Quaffing wine' – 12,000 Miles Sauvignon Blanc 2014
Move over Marlborough… try the 'more grown up', easy drinking summer Wairarapa SB. The wine shows excellent fruit purity and finishes long and attractive. At its best: now to 2017." 4.5 Stars, Wine Orbit, Jan 2015
Gladstone Vineyard Viognier 2014
White peach and mandarin on the nose, echoed by orange blossom and subtle clove spice. An elegant, cool climate Viognier. 5 Stars 93/100. Wine Orbit; 4 Stars" Cameron Douglas MS
Gladstone Vineyard Sauvignon Blanc 2013
More serious, wonderful food wine. Careful batch selection and winemaking produce this textural elegant Sauvignon Blanc. Silver Medals, San Francisco and Canada, 91/100 Sam Kim.
12,000 Miles Pinot Gris 2014
A lovely bouquet of yellow peach, loquat and nectarine opens up to a musky floral and cinnamon spice nose. The palate is rich and rounded with a soft, mealy character from the extended lees contact. Silver Medal NZ International Wine Show 2014
Gladstone Vineyard Rose 2014
THINK PINK! A perfect 'all year round' rose. The nose is all summery desserts with strawberry, raspberry and pannacotta with hints of spice. Creamy and generous entry with a juicy fruit core and a clean finish. Made from Cabernet Franc and Merlot grapes.
12,000 Miles Pinot Noir 2013
New release, dark berry flavours are balanced with subtle spice, chocolate, earth and savoury characteristics that enhance and lengthen the palate. Pure Gold Air New Zealand Wine Awards 2014, Gold Melbourne International Wine Competition 2014
Gladstone Vineyard Pinot Noir 2011
"Light ruby-red with purple hues, fresh and fragrant with lifted red cherry and berry fruit aromas and a little savoury interest. Attractively elegant". Silver Medal International Wine Challenge 2013, & Decanter World Wine Awards 2013, International Wine Challenge 2013
Note: Every case purchased goes into the draw to win a magnum of Gladstone Vineyard Reserve Pinot Noir 09.