14th October – This month we have Saint Clair Family Estate from Marlborough with Alison Downs presenting.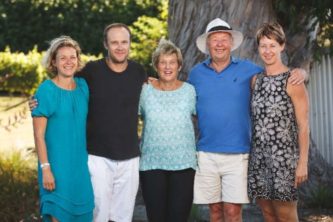 Saint Clair Family Estate was established by Neal and Judy Ibbotson in 1994, having been viticulture pioneers in Marlborough since 1978. From their first vintage, when all their wines won medals, including gold, the name Saint Clair has been synonymous with quality and its award-winning record continues today.
Saint Clair is 100% family-owned, with the next generation also involved in the day-to-day running of the company.
Daughters Sarina and Julie both work within the business in sales and marketing after studying wine business marketing at Adelaide and have a vast knowledge of the wine industry. Son Tony is responsible for the design of all Saint Clair's packaging, promotional material and advertising. He owns a design consultancy business, the Creative Method, in Sydney. Tony designed the original Saint Clair labels back in 1994 when he was a student and has been refining and expanding the range of Saint Clair labels ever since.
Our mission is to create world-class wines that exceed their customers' every
expectation.
Starter Wine
2019 Saint Clair Origin Pinot Gris Rosé
Wine Tasting
2018Saint Clair Pioneer Block 28 Pinot Blanc
2019 Saint Clair Origin Hawke's Bay Viognier
2019 Saint Clair Wairau Reserve Sauvignon Blanc
2019 Saint Clair James Sinclair Chardonnay
2018 Saint Clair Pioneer Block 22 Pioneer Block Pinot Noir
2017 Saint Clair Origin Hawke's Bay Merlot
Book it in now – Tasting: 14th October, starts at 8pm J'ville Community Centre – look out for our sign outside
Door prices: $14 for members $18 for guests