Glengarry's Sunday ramblings of all things vinous, grain and glorious. A tour of Italy – Part 2 comes from The Sunday Sediment Issue 6.
Sicilia
The largest island in the Mediterranean, Sicily boasts the greatest number of wineries of any Italian region. Leading light on the island is the fortified DOC wine, Marsala; so brilliant for cooking and superb when served with a hard cheese like Pecorino. While there are some impressive DOC wines here, there is also great value being offered by top quality producers making very good IGT wines from native varieties.
The South
Generally, the south of Italy is all about value and generous, forward wine styles. Abruzzo is located on the coast north and east of Rome, the region home to Montepulciano d'Abruzzo. Historically significant as the place the vine first arrived in Italy from Greece, Apulia (or Puglia) is located in the middle of the heel of Italy's boot. Known as a large volume producer, there are now top-rated DOCG, an impressive 25 DOC zones and a chariot-full of great Italian foods.
Italian Sparkling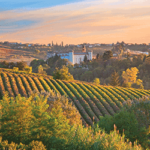 Produced largely in the north, Prosecco is the current high-flier of Italy's respected sparkling wine industry. In 2009 it was awarded DOCG status, that important 'G' on the end adding a rock-solid guarantee to the quality of the wine. Franciacorta is both a highly-rated DOCG area and a sparkling wine with a huge reputation, produced a la champagne, but with even more stringent aging requirements than its French cousins.
Grappa
The Italians have been perfecting their heady spirit known as Grappa since the Middle Ages. A unique concoction produced from grape pomace (the skins, pulp, seeds and stems left over after the juice has been extracted for winemaking), Grappa began life as a coarse, home-made drink enjoyed by farmers after a hard day's work. From these humble beginnings it has evolved into a highly refined spirit. By EU law, Grappa must be produced in Italy, without any added water, from fermented and distilled pomace. To produce it, the pomace is heated in a bain-marie (also known as a water bath or double boiler) to create steam, which is forced through a distillation column. The resulting colourless, filtered distillation can be enjoyed immediately, but the finest Grappas are aged in glass or wood, which changes the colour and adds complexity. Flavours, too, can vary considerably depending on the origin of the grape pomace, the blending and the aging process. Great post-prandial, or added to espresso.
Read more in the Glengarry Wineletter – #232 August 2017.