By Roger Moroney | Tuesday, Apr 4, 2017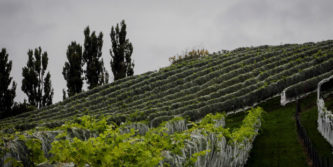 The drought conditions of December through to mid-February had effectively "saved our bacon" in terms of how the grapes across Hawke's Bay had weathered persistent and potentially damaging bouts of rain over the past six weeks.
However, there was likely to be a drop in overall volumes along with a drop in sugar levels and in individual cases a possible rise in the cost of harvesting, leading winemaker Rod McDonald said.
Bright, warm and dry days had seen the critical early development of grapes go extremely well, Mr McDonald said, adding that effectively created a good base for fruit protection when the rains did arrive.
"There was good early flavour development during the start of the season – they [grapes] may be down on sugars but the flavours are there."
Location had been a factor in which vineyards saw reduced volumes, he said, although the overall drop was unlikely to be major.
Of the three vineyards which sourced Rod McDonald Wines one would be down on volumes as a result of the rain belts but the other two were actually slightly ahead of their initial estimates.
"It depends where you were to find the effects where rain hit."
He said coastal areas like Te Awanga came through well.
"We've got some amazing chardonnay and perfect ripeness out of there."
Rain often created extra costs due to stopping and starting of harvesting – "darting back and forth" – as well as the need for selected picking plans.
"But you've just got to suck it up."
Mr McDonald said he was at a wine tasting in Auckland about a month ago and was asked what effect rain would have on the grape harvest and how damaging could it be.
He replied that despite Hawke's Bay's dry reputation everyone in the industry had a wet weather plan and were always prepared for such an eventuality.
"If you don't then you're dreaming."
Part of his plan was to go with "discretion rather than valour" and carry out an earlier than usual harvest of some Syrah and Merlot so as not to put them through any more rain.
"You have to ask yourself 'do I pull the pin now and bank it or push on through?"
But he still has some Syrah out, along with Cabernet "and they are in great shape".
Having a damp end to the season was always a threat and simply "one of those things you have to deal with".
Mission Estate winemaker Paul Mooney took the same stance.
"We have had a remarkable amount of rainfall over the past six or seven weeks and that is not ideal for grape growing but we have worked around it."
Mr Mooney said there had been some grape loss.
"There have been one or two blocks we've had to leave."
While volumes would be down it would not be major and he agreed with Mr MacDonald that the hot, dry start for the season had put things on the right path.
"It just hasn't been ideal in the way it has finished," he said.
He also agreed that while sugar levels were down flavours would still be very good.