Event information
Tasting - Negociants present Yalumba Wines

7:45 - 9:45 pm

Venue: Johnsonville Community Centre Hall, 30 Moorefield Rd, Johnsonville, Wellington 6037 - Directions 
Entry fee: Members $14 Guests $18
Presenters:  Cenna Lloyd – Negociants

Established in 1985 by Australia's most historic family-owned winery, Yalumba, Negociants New Zealand is one of New Zealand's leading fine wine merchants, distributing many of New Zealand's most celebrated wines, as well as prestigious imported brands from Australia and the world to licenced trade. Their dedicated and knowledgeable team of wine professionals is committed to the highest levels of customer service and quality representation of their portfolio of world-leading wines. The association with Yalumba is obvious.

Yalumba is Australia's oldest family-owned wine company and in many respects, the history of Yalumba is a reflection of the history of the Australian wine industry. Just like the old Shiraz vine, Yalumba in its early years was primarily a producer of fortified wines. Today, however, the company is a thoroughly modern wine business and one of Australia's largest exporters. The focus is very much looking forward.

Wines to be tasted are:

2017/2018 Sangiovese Rose
2017 Organic Chardonnay
2014 Eden Valley Roussanne
2017 Eden Valley Viognier
2017 Old Bush Vine Grenache
2015 Paradox Shiraz
2014 The Signature Cabernet Sauvignon Shiraz

You have to admit it, don't these tastings just keep on giving. See you next Wednesday.
See all past club events dating from February 1985.
Member prize draw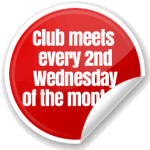 At each meeting, there is a members' prize draw, but you must be present to win. We also have a raffle draw each tasting with the prize of a bottle of wine. Purchase your tickets at the door and be in to win.
Drinking and driving
Members will be aware of the lowering of drink/drive limits from December 2014. If unsure read the Land Transport Amendment Act (no 2) 2014. We ask members to be conscious of these limits. For those driving, water and some food are provided or think about a designated driver, taxi, uber or dial-a-driver to get you home safely.
Wine bottle screw caps
Anne is collecting them to give to the Lions organised Kan Tabs for Kids. No food lids or beer tops, please. Save and bring them to the next monthly meeting.