Event information
Tasting - Unison

7:45 - 9:45 pm

Venue: Johnsonville Community Centre Hall, 30 Moorefield Rd, Johnsonville, Wellington 6037 - Directions 
Entry fee: TBC
Presenter: TBC

Unison Vineyard is in the Gimblett Gravels and is operated by Philip and Terry Horn. Hawke's Bay, and especially the Gimblett Gravels Winegrowing District, is not a so-called "cool climate" winegrowing region and it is also not a "hot climate" region. Hawke's Bay has a temperate climate.

The temperatures in the ripening period of around 24-28 degrees Celsius are absolutely ideal for slow but consistent ripening where the aroma development reaches its greatest range. At higher temperatures a vine stops "working" and the development of aromas and tannins can be retarded and potential aroma and flavour components metabolized.

Wines produced in moderate climates have, in general, the widest aroma and flavour spectrum, are concentrated but not overpowering, is sophisticated and elegant.

Due to the consistency over the years in high-quality fine wines, Unison Vineyard has been rated by Jancis Robinson (Concise Wine Companion) as one of 28 up-and-coming producers worldwide "... whose success seems most obvious to me at the beginning of the 21st century ..." – the only winery in NZ which has received this accolade.

On the night we will be tasting:

2016 Sauvignon Blanc
2016 Reserve Chardonnay
2017 Rose
2015 Rocky Red
2012 Reserve Merlot
2013 Classic Red
2013 Syrah

So let's go for sophistication and elegance, from a top region, ie the Gimblett Gravels, and with owners who are dedicated to producing the highest quality in their wines. Why wouldn't you be there?
See all past club events dating from February 1985.
Member prize draw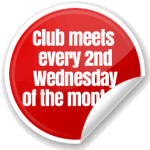 At each meeting, there is a members' prize draw, but you must be present to win. We also have a raffle draw each tasting with the prize of a bottle of wine. Purchase your tickets at the door and be in to win.
Drinking and driving
Members will be aware of the lowering of drink/drive limits from December 2014. If unsure read the Land Transport Amendment Act (no 2) 2014. We ask members to be conscious of these limits. For those driving, water and some food are provided or think about a designated driver, taxi, uber or dial-a-driver to get you home safely.
Wine bottle screw caps
Anne is collecting them to give to the Lions organised Kan Tabs for Kids. No food lids or beer tops, please. Save and bring them to the next monthly meeting.