Event information
Tasting - Pegasus Bay, Waipara Valley

7:45 - 9:45 pm

Venue: Johnsonville Community Centre Hall, 30 Moorefield Rd, Johnsonville, Wellington 6037 – Directions.

Cost: Members $14, Guests $18

Presenter: Ed Donaldson, Marketing Manager

Wines: 

2013 Pegasus Bay Sauvignon/Semillon
2014 Pegasus Bay Bel Canto Riesling
2014 Pegasus Bay Riesling
2014 Main Divide Chardonnay
2012 Pegasus Bay Pinot Noir
2012 Pegasus Bay Merlot/Cabernet
2011 Pegasus Bay Finale


"If a wine critic was not passionate about any of Pegasus Bay's wine they should seriously consider a change in career" - NZ Wine Country

The Donaldson family have been seriously involved in wine since the early 1970's and were pioneers of local grape growing and wine making.

Associate Professor and Consultant Neurologist, Ivan Donaldson is a wine writer and wine judge and has recently been awarded an Order of Merit for his contribution to Neurology. He also oversees viticulture and wine styles while his wife Christine directs most of her energy on maintaining the winery's extensive grounds. She is also a lover of opera and the arts and is heavily involved in the local Opera scene for many years. Christine has organised many
concerts at the winery's natural amphitheatre and a reserve range of wines dedicated to Christine's passion for opera.

Their eldest son, Matthew is the winemaker and graduated with an oenology degree and a postgraduate diploma in viticulture at Roseworthy College in Australia. He has worked many vintages in other parts of the world, with a particular focus on Burgundy. 2012 marked Matthew's 20th vintage at Pegasus Bay. 

Another son, Edward is Marketing Manager, who spends much of his time trotting the globe and promoting his family's wines to the more than 25 countries where Pegasus Bay is distributed, his wife Belinda directs the winery's multi award winning restaurant. The youngest son Paul, who has an MBA, is the winery's General Manager.

Pegasus Bay is an entirely family-owned and operated enterprise.
See all past club events dating from February 1985.
Member prize draw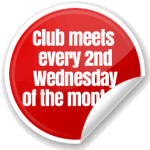 At each meeting, there is a members' prize draw, but you must be present to win. We also have a raffle draw each tasting with the prize of a bottle of wine. Purchase your tickets at the door and be in to win.
Drinking and driving
Members will be aware of the lowering of drink/drive limits from December 2014. If unsure read the Land Transport Amendment Act (no 2) 2014. We ask members to be conscious of these limits. For those driving, water and some food are provided or think about a designated driver, taxi, uber or dial-a-driver to get you home safely.
Wine bottle screw caps
Anne is collecting them to give to the Lions organised Kan Tabs for Kids. No food lids or beer tops, please. Save and bring them to the next monthly meeting.