Event information
Tasting - Wines of Argentina

7:45 - 9:45 pm

Venue: Johnsonville Community Centre Hall, 30 Moorefield Rd, Johnsonville, Wellington 6037 – Directions.

Cost: Members $12, Guests $16

Presenter: Josefina Telleria

"From humble beginnings and a passion for everything the Argentine wine and food culture has to offer, South2South has now become a company with a clear mission to provide Kiwis with an opportunity to enjoy the unique flavours and memorable experiences Argentine wines bring to the palate. Our vision is to become New Zealand's premier Argentine fine wine importer."

Chris Emmett and Josefina Telleria form South2South. Chris is a kiwi who has been converted to wine through his association with the wines of Argentina. Josefina was born and raised in Argentina and is the Argentine connection. She has a strong family connection to vines and wines in and around Mendoza. They are keen to introduce us to their passion for wines from the region.

Let's enjoy. The wines on the night will be:

Introductory - La Consulta Reserva Torrontes or La Consulta Reserva Malbec
2013 Montechez Reserva Chardonnay
2013 Alta Vista Premium Torrontes
2014 Serbal Malbec Rose
2013 La Celia Pioneer Malbec
2012 Montechez Reserva Malbec
2012 Montechez Limited Edition Cabernet Franc


Don't miss this one, it will be fun.
See all past club events dating from February 1985.
Member prize draw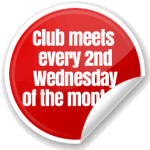 At each meeting, there is a members' prize draw, but you must be present to win. We also have a raffle draw each tasting with the prize of a bottle of wine. Purchase your tickets at the door and be in to win.
Drinking and driving
Members will be aware of the lowering of drink/drive limits from December 2014. If unsure read the Land Transport Amendment Act (no 2) 2014. We ask members to be conscious of these limits. For those driving, water and some food are provided or think about a designated driver, taxi, uber or dial-a-driver to get you home safely.
Wine bottle screw caps
Anne is collecting them to give to the Lions organised Kan Tabs for Kids. No food lids or beer tops, please. Save and bring them to the next monthly meeting.