Event information
Tasting - A MacVine Christmas

7:45 - 9:45 pm

Venue: Johnsonville Community Centre Hall, 30 Moorefield Rd, Johnsonville, Wellington 6037 – Directions

Cost: Members $20, Guests $25

Presenter: Michael Jemison, Managing Director

Background: Established in 1999, Macvine International is an importer and distributor of top quality, specialist wine from New Zealand and around the world. We also import and distribute Spiegelau glassware – one of the world's top specialist producers of glassware designed for wine lovers. Wines for tasting:

2013  Italian Prosecco – Ca Di Rajo Prosecco Superiore Valdobbiadene DOCG Millesimato Extra Dry – Actually bottle fermented and from the best region in Prosecco. It's an off-dry style even though its say extra dry which in Italian mean off dry.
Australian bubbly – Yerring Station Yarrabank Cuvee – Made with the help of a French Champagne house so offers a point of difference quite smart.
French bubbly – Andre Delorme Terroir d'Exception Blanc de Blanc NV – From Burgundy hand is made the same way as Champagne last year would best sparkling wine in Cuisine Magazine.
2013 Kerpen Riesling Kabinett – Low alcohol which good fruit weight to refresh the palate
Champagne – Dumangin Brut Le Rose Premium Cru NV – Exceptional bubbles
2003 Dumangin Premier Cru Vintage Champagne – 95 points Bob Campbell this is rich like Christmas cake and complex.
Sticky – 2011 Clark Estate Noble Pinot Gris 375ml 

What a great selection and Macvine will be offering some very healthy discounts if you want something special for Christmas. Don't miss this one.

Nov bubbles and Dec dinner

We're getting ready for a busy season with Nov bubbles and Dec dinner.

To show your support, please complete the payment advice form and either pay online or bring the form and payment with you when you come to the November tasting.
See all past club events dating from February 1985.
Member prize draw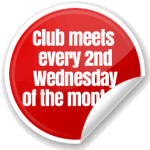 At each meeting, there is a members' prize draw, but you must be present to win. We also have a raffle draw each tasting with the prize of a bottle of wine. Purchase your tickets at the door and be in to win.
Drinking and driving
Members will be aware of the lowering of drink/drive limits from December 2014. If unsure read the Land Transport Amendment Act (no 2) 2014. We ask members to be conscious of these limits. For those driving, water and some food are provided or think about a designated driver, taxi, uber or dial-a-driver to get you home safely.
Wine bottle screw caps
Anne is collecting them to give to the Lions organised Kan Tabs for Kids. No food lids or beer tops, please. Save and bring them to the next monthly meeting.