Event information
Tasting - What age can do for wine?

7:45 - 9:45 pm

Venue: Johnsonville Community Centre Hall, 30 Moorefield Rd, Johnsonville, Wellington 6037 - Directions 
Entry fee: LIMITED MEMBER ONLY EVENT - Limited to the first 36 to reply to Robin's newsletter
Presenter: Wayne Kennedy supported by John Saker

This month's tasting is truly different. We will be tasting some wines that have serious age on them. There is no guarantee of quality but I'm sure we will be surprised. And as part of the evening, Wayne will be explaining how we came by them. The wines include:

1994 UK - Southacre Muller Thurgau & Madeleine Angevine
1996 UK - St Annes Schonberger/Wurzer
1974 McWilliams Napier Pinot Chardonnay
1980 McWilliams Napier Pinot Chardonnay
1990 McWilliams Mount Pleasant Elizabeth Chardonnay [Aus]
1975 McWilliams Napier Cabernet Sauvignon
1994 Leconfield Coonawara Cabernet, Merlot, Cabernet Franc
1986 Matua Valley Cabernet Sauvignon
1985 -95? Mystery Double Magnum/Jeroboam from Chris Pask

Not everyone will get to taste the same wine as many of the bottles are singletons so as one side of the room tastes one, the other side of the room will taste another. And the highlight is sure to be the last one. A Bordeaux style red [we think] from one of the pioneers of the Gimblett Gravels, C J Pask. This wine is somewhere between 20 and 30 years old and its presentation in a large bottle dating back to 1893 offers its own intrigue.

Adding to the fun, we have recruited noted wine writer John Saker to join us and to provide us with his expertise as both a wine writer and wine judge as we try to assess just how age has affected each of the wines. This night is very much a learning occasion that offers a lot of fun and enjoyment as we try to find the best-aged wine.

But the limited number of bottles does mean that we will need to limit numbers to no more than 36 and so if you want to attend, please email me ASAP. Your attendance will be confirmed back and please, members only. 

In keeping with the theme of the evening, the door raffle will be $2 a ticket and is for a bottle of 2002 Penfolds Bin 389 Cabernet Shiraz from the club's cellar. I'm told that on the internet, this wine is being offered for sale around $189 a bottle, so whoever wins this wine is going to be very pleased with him/herself.

So don't delay, email your attendance to Robin ASAP.

HINT: Just go Reply to this email and say YES I want to attend.
See all past club events dating from February 1985.
Member prize draw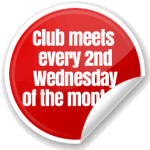 At each meeting, there is a members' prize draw, but you must be present to win. We also have a raffle draw each tasting with the prize of a bottle of wine. Purchase your tickets at the door and be in to win.
Drinking and driving
Members will be aware of the lowering of drink/drive limits from December 2014. If unsure read the Land Transport Amendment Act (no 2) 2014. We ask members to be conscious of these limits. For those driving, water and some food are provided or think about a designated driver, taxi, uber or dial-a-driver to get you home safely.
Wine bottle screw caps
Anne is collecting them to give to the Lions organised Kan Tabs for Kids. No food lids or beer tops, please. Save and bring them to the next monthly meeting.