Event information
Tasting - Squawking Magpie

7:45 - 9:45 pm

Venue: Johnsonville Community Centre Hall, 30 Moorefield Rd, Johnsonville, Wellington 6037 – Directions.

Entry fee: Members $12, Guests $16

Presenter: Gavin Yortt, Owner/Director

2016 PINK Rose
2015 The Chatterer Chardonnay
2015 Counting Crows Chardonnay
2014 The Chatterer Syrah
2014 The Gravels Syrah
2013 The Nest Merlot
2013 Stoned Crow Syrah

The Gimblett Road area of Hawke's Bay is synonymous with the production of world-renowned wines. From these much-celebrated shingle soils, hails the region's most exciting boutique label: Squawking Magpie.

The "cradle of quality" for Squawking Magpie is the Woodlands Vineyard in the Gimblett Gravels area, the first 4 hectares of which were planted in 1995. In 2002, a new 20-hectare vineyard was developed as a joint venture and planted predominantly in Cabernet Sauvignon, Merlot and Syrah.

From the very first plantings, an emphasis has been placed on creating outstanding wines by focusing on viticultural excellence. Owner and director Gavin Yortt and his team hold the firm belief that great wine comes from great grapes.

And the proof is certainly there to be tasted: Squawking Magpie wines exhibit all the elegance and finesse of a unique terroir and stand testament to the superiority of single vineyard estate management and production.
See all past club events dating from February 1985.
Member prize draw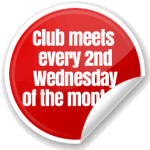 At each meeting, there is a members' prize draw, but you must be present to win. We also have a raffle draw each tasting with the prize of a bottle of wine. Purchase your tickets at the door and be in to win.
Drinking and driving
Members will be aware of the lowering of drink/drive limits from December 2014. If unsure read the Land Transport Amendment Act (no 2) 2014. We ask members to be conscious of these limits. For those driving, water and some food are provided or think about a designated driver, taxi, uber or dial-a-driver to get you home safely.
Wine bottle screw caps
Anne is collecting them to give to the Lions organised Kan Tabs for Kids. No food lids or beer tops, please. Save and bring them to the next monthly meeting.