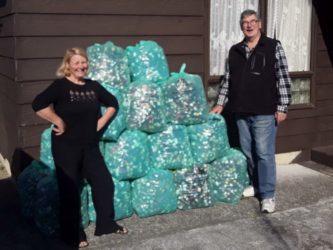 The following appeared in the Independent Herald for the last week of April.
Members of a local wine club have been collecting screw caps off wine bottles for the last year and have amassed 27 bags full.
As each bag holds approximately 1300 caps – this is a lot of wine! (Remember 2020 was not a normal year), and that is a lot of metal not going into the landfill.
Vice President Anne Megget collects the caps from members, friends and neighbours, and when her cellar is overflowing with bags Treasurer Wayne Kennedy comes around with his trailer and takes them to Wellington Scrap Metal for recycling and this year they raised $215.40.
The Cellar Club is a Wellington-based social group that focuses on learning about and appreciating wine. It has been in existence for 40 years and provides wine education and experience through monthly presentations at the Community Centre Hall in Johnsonville.
Contact can be made through the website or to Anne.
Postscript
Wayne recently provided a plastic bread bag fill with wine tops and neck labels. The latter is also aluminium and equally collectable. Being retired he decided to check out just how many bottles had been consumed. The bag weighed 556 grams and contained 167 tops and 107 neck labels. The problem was Lynne was nearby and not being a wine drinker, she asked 'what was the likely value of the wine consumed?', to which he replied, 'Using an $18 average bottle cost, about $3000! But it was more than a year's worth!' he pleaded.
Lynne just smiled and, as she walked away, said there was a lot more wool coming.
But having done this weighing, and looking at the money raised above, he thinks the club collected close to 50,000 tops and even if we were to use a cost of $15 per bottle consumed, that's $750,000 of wine drunk by the club, friends and neighbours.
One final point
Those neck labels on wine bottles will aluminium tops are 1.3 times heavier than the tops, so are well worth collecting. Just be very careful and work away from yourself as you attempt to remove one from the bottle.