Thanks to those requesting recipes from last November's Portuguese wine & food tasting.
Pão frito (fried bread)
INGREDIENTS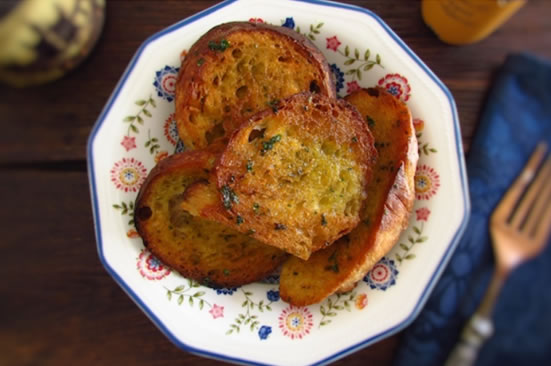 400 grams (14 ounces) bread cut into slices
100 ml (1/2 cup) olive oil
6 cloves of garlic
Pepper (to taste)
Coriander (to taste)
DIRECTIONS Put the olive oil and unpeeled crushed garlic in a frying pan and saute over low heat for about 3 to 4 minutes. Add the bread, season with pepper and chopped coriander and fry it on both sides over medium heat until golden brown. Turn off the heat and serve this delicious appetizer before the main course.
Figos, presunto e queijo de cabra (figs, ham and goat cheese)
Hands-on time 10min. Cooking time about 10 min. Makes 20. INGREDIENTS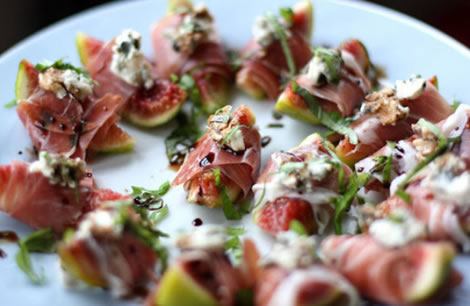 1 tbsp balsamic vinegar
2 tbsp runny honey
Vegetable oil, to grease
5 figs, cut into quarters
10 slices Parma Ham, sliced in half lengthways
100g (3 1/2oz) hard Goat's Cheese
METHOD
Preheat the oven to 200C (180C fan). Mix together the balsamic vinegar and honey together in a small bowl. Grease a baking sheet and place the figs skin side down onto it, then drizzle over the balsamic mixture carefully covering each fig. Roast for 10min. Allow to cool slightly. Cut cheese into small pieces and top each fig with a piece of cheese. Wrap each fig in a length of Parma ham. Serve at room temperature.
HINTS:
We can use Melon if figs are not in season. Can also substitute blue cheese or parmesan if you can't get a HARD goat's cheese Part of the joy of this dish is the balsamic vinegar pairing with the parma ham.
Camarão alho (garlic shrimps)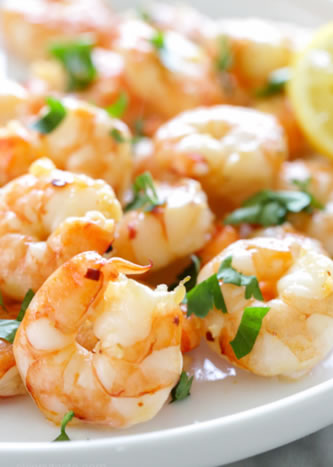 INGREDIENTS
2 Ibs shrimp, raw and peeled, no tails
1/2 cup margarine (or butter)
6 garlic cloves, fresh and crushed
1/2 cup dry white wine (can use white cooking wine)
1/2 teaspoon crushed red pepper flakes
1 lemon (need about 1 1/2 oz. fresh lemon juice)
METHOD
Preheat oven to 350 degrees For two pounds of raw, peeled shrimp, saute one stick margarine (I use butter) with six cloves of crushed garlic, slowly on low heat, do not burn the garlic! Then add 1/2 Cup dry white wine (can use cooking wine), 1/2 Crushed Red Pepper, 1/2 oz. Fresh Lemon Juice Place raw, peeled shrimp in a 21/2 quart casserole dish and pour the sauce over the shrimp, cover and bake 20 minutes You're done! Serve over yellow or white rice or alone with plenty of bread
HINTS
2lb is almost a kilo of shrimps, although I would use peeled and tailed prawns – but frozen from the supermarket. 350 degrees is a fraction under 180 C Bring in a dish that we can warm in the oven and then spoon out into the serving dishes and send out with toothpicks
Bolas de frango com molho de piri piri (chicken balls with a piri piri sauce)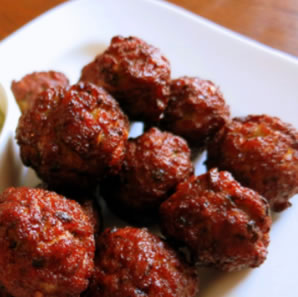 Suggest you go to the supermarket and buy pre-made chicken balls and a bottle of Nando's Peri-Peri Sauce. Then simply fry the chicken balls in a ½ inch of oil heated medium-high
Turn occasionally to ensure browned and cooked through, about 8 minutes. Transfer chicken balls to bowl. Add sauce and toss until covered then serve with toothpicks.
Carne vinho d'alhos (beef in a wine and garlic marinade)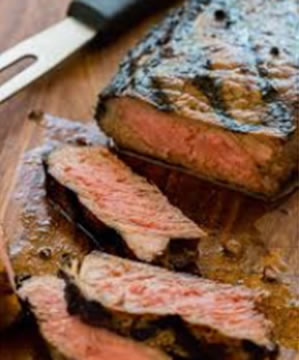 INGREDIENTS
3 to4 clove fresh garlic
1 Tbsp Portuguese paprika [I used smoked]
1 tsp coarse salt or to taste
6 black peppercorns
1 Tbsp Portuguese olive oil
1 c red (or white wine or equal amounts of both.
1 Tbsp fresh minced crushed red pepper.
METHOD
Using your chef knife (or any knife smash the garlic cloves and finely chopped. ADD all dry ingredients one at a time. BLENDING well, drizzle in 1 tablespoon olive oil .  Then RUB the meat with the spices mixture and place in a nonreactive dish. POUR the wine over the meat to partially or entirely cover it, depending on the recipe. MARINATE the meat, turning occasionally, for several hours. It's best to marinade overnight in the refrigerator or even 24 hrs for better results
HINTS:
For the meat, I used Rump Steak which marinated well. Sirloin would also have been OK. Be sure to pat dry before grilling or frying else you risk poaching the steak because of the excess marinade liquid. I used the BBQ which gave an extra smokiness. Watch your cooking time as it will vary depending upon the thickness of the steak. I had the plate super hot and did just under 2 mins a side. For one of the thinner pieces, it was about 90 secs a side. If not sure, I suggest trying a small sample first. The aim is for a hint of pink in the middle but obviously one can adjust to personal tastes if doing this as a meal. Be sure to rest the steak. Slice thinly if serving as hors d-oeuvres. The dish name literally means meat in wine and garlic. More often, the recipe uses pork and white wine, but our choice is just as valid.