Cathy Gowdie – Stuff | October 25, 2017
(These are some excerpts from an article which actually canvassed 10 things you might want to know about wine. I have picked out several that I found more interesting. The rest, in fact, we didn't want to know.)
What is orange wine if it's not from oranges?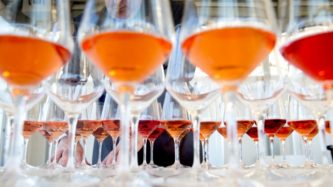 Orange, some say, is the new rosé, occupying the demilitarised zone between red and white. The colour crosses a spectrum – from pale apricot to enraged Trump, all the way to amber – but what's really different about orange wine is the way it's made. Traditionally, red wines are made from the juice of red grapes plus grape skins. Whites are made without skins.
Orange wines are made from white grapes but get the red-wine treatment – the juice is macerated with the skins, a technique dating back 8000 years to wine's birthplace, Georgia. The resulting texture, tannin and colour means these "skin-contact" wines have more in common with reds than whites; styles vary from fruity, floral or earthy to sour and funky.
What is natural wine and why are people so excited about it?
Natural winemaking is a broad church in which wines are generally (purists say must be) made from grapes grown without commercial chemicals. Processing takes place with minimal "intervention" – so, for example, the wine may not be filtered to remove cloudiness. Additives, such as sulphur dioxide – used for centuries to keep wine tasting fresh – are shunned or kept to a minimum. It's a departure from the kind of large-scale industrial winemaking that values hygiene and consistency over quirks and imperfections.
As with conventional wines, quality varies hugely. There's no regulation of what's called natural, so if you're going that way to avoid chemicals, look for certified organic or biodynamic wines – they're more likely to be what you're paying for. When made by winemakers of skill and integrity, the best natural wines celebrate quality, individuality and character – hallmarks of all great wines, regardless of whether they're pitched as natural.
What's better – Pinot Gris or Pinot Grigio?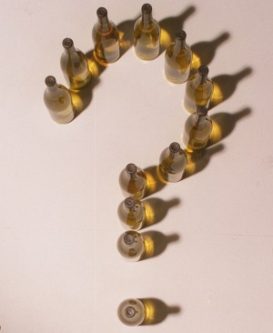 Same grape, different name – one name is French, the other Italian, with "gris" and "grigio" both meaning "grey". In Europe the French approach to making gris produces a highly perfumed wine with plenty of mouthfeel; grigio from Italy is often (not always) a crisper, lighter wine. "Better" is in the eye of the beholder – good news is they're all food-friendly styles. So in short, no difference in the grape, just the name.
Why might some wines contain traces of eggs, fish or milk?
Egg whites with fish bladders and milk: a dish that might make guests at a Game of Thrones banquet actually welcome the post-dinner massacre. Yes, it's medieval stuff – each of these has been used for centuries to "fine" wine. Fining is a process in which one or more of these proteins is dropped into unfinished wine to bind with components that taste bitter, astringent, or are likely to make the wine hazy. They are then removed. Traces, as the label states, may remain.
If any of the above have been used you'll find them listed on the label as allergens. The fish bladder derivative also goes by the name isinglass and is rarely used in Australia but egg whites and milk products are still common.
How long will a wine keep after it's been opened?
Like fish and houseguests, opened wine smells less appealing after three days. Aim to finish an open bottle over no more than two nights. As a rule of thumb, red wines stay in condition for longer than whites (some robust reds taste better on day two). Exposure to air changes the aroma and flavour of opened wine, so reseal a bottle you're not planning to finish in one go.
A bottle that's mostly full will last better than one with only a glass or two left. It's about the proportion of air to wine – more air in the bottle means faster deterioration. Store an opened bottle upright, not on its side. If you keep a clean, empty half-bottle handy, decant unfinished wine into that – it will stay fresher than in a full-size bottle. Otherwise, start scouting wine-saving devices.
(This last item may not reflect editorial opinion, surely once the bottle is opened it deserves to be finished in one sitting. The person I live with frequently draws my attention to the week that passes between a tasting and when the committee downs the tasting leftovers, but members may not understand the deterioration that has occurred during that time and the generous effort made by committee members to get rid of these leftovers on their behalf.)