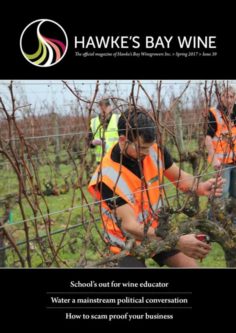 Hawke's Bay Winegrowers presents your digital issue of Hawke's Bay Wine – Summer Issue.
Chairman's Report 2017
Under-vine reflector panels
The cirtical powdery mildew window
In every issue we profile Hawke's Bay Wine companies and personalities, wine from our region and associated sectors. We offer up a number of informed viewpoints, cover the news and present a range of wine-related feature stories.
Do you have news relating to Hawke's Bay Wine Sector?
Email: hawkesbaywinemag@xtra.co.nz.
Advertising enquiries can be directed to Kite Communications