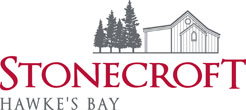 Stonecroft is a small, family owned winery making organic Gimblett Gravels wines in Hawke's Bay, New Zealand. The owners are Dermot McCollum and Andria Monin, who live on the Roy's Hill vineyard with their two children Emer and Oscar, plus Jasper the cat and Stanley the chocolate lab.
At Stonecroft, they seek to express through their wines the unique character of their vineyards and each vintage. The intention is to make wines which are intense, full-bodied, elegant and fruit-driven, but capable of significant bottle development. The ability of the wines to improve in the bottle has been demonstrated over more than 20 years, with many of the early examples still drinking well. Their total production is very small; with around 3,500 cases produced annually. Both the vineyards and the winery are certified organic.
Andria will be presenting on the night.  A tasting not to be missed.  More next month.