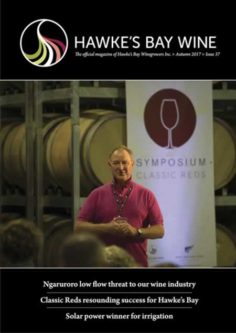 Hawke's Bay Winegrowers presents your digital issue of Hawke's Bay Wine – Autumn Issue.
Ngaruroro low flow threat to our wine industry
Classic Reds resounding success for Hawke's Bay
In every issue we profile Hawke's Bay Wine companies and personalities, wine from our region and associated sectors. We offer up a number of informed viewpoints, cover the news and present a range of wine-related feature stories.
Do you have news relating to Hawke's Bay Wine Sector?
Email: hawkesbaywinemag@xtra.co.nz
Advertising enquiries can be directed to Kite Communications
Digital subscription sign up directed to Elisha

Copyright © 2017 Hawke's Bay Winegrowers Inc, All rights reserved.
Mailing address is:
Hawke's Bay Winegrowers Inc
PO Box 1174
Hastings, Hawke's Bay 4156
New Zealand