There are not many times when tasting wines you come across a range that fulfils everything it promises. Duncan, the team at Man O' War, and our presenter Ben have produced a range the would not let anyone down. Everyone had their favourite on the night right across the lineup.
2013 Gravestone Sauvignon Blanc Semillon
2014 Valhalla Chardonnay
2015 Exiled Pinot Gris
2015 Pinque Rose
2011 Dreadnought Syrah
2012 Man O' War Merlot Cabernet Malbec
2010 Ironclad Bordeaux blend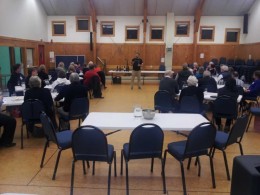 Ben, the GSM at Man o' War is an ingenious speaker; knowledgeable, funny, with a great personality; a great representative for Man O' War. I noted a few of Ben's one-liners:
Berocca pee (in reference to Marlborough Sauv's)
Better red than dead
Gotta go big or go home
Drink some tea (in reference to waiting for wine to ferment)
Global warming is John Key,s fault (needing to pick 2012 crop later than usual due to wet weather)
Waiheke is a piece of dirt in a big blue thing (in reference to an ideal location)
Man O' War is 150 acres made up of 76 individual parcels of land providing great diversity in soil type, prevailing winds and temperature, allowing the winemaker to source the best of what's on offer to make incredibly decadent wines.
The Gravestone as you'd expect was far your typical sauv. Silky with a touch of sweetness with a slight minerality finish – pleasant. 15/20
I have been drinking the '09 and '10 Valhalla – exceptional wines. The 2014 rendition was smokey, no malo ferment due to basalt soils, and a beautifully balanced wine. Yes needs five years but worth the wait. 19/20
The Pinot Gris bottled at 4° gave a slight tingle on the tongue. Ben mentioned this raises the CO2 levels so there's more in the bottle – about 4 ml. 17/20
The inaugural release of Pinque, named after a  flat-bottomed ship, was gently pressed wine in the champagne style over 6 hours. A pale pink hue gives way to a savoury cranberry nose and clean dry finish. 15/20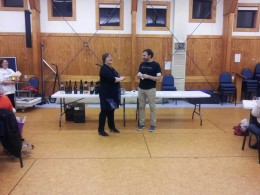 The white label Merlot dominant (45%) Bordeaux blend is one of my favourite wines anytime. I can recommend the '06 and '07 as it has aged wonderfully well so 2012 won't let you down. Fruity, light tannin feel on the teeth, not the mouth, and a smooth rich finish. 17/20. Now for the biggies.
The Ironclad, silky elegance. Savoury mince nose, rich lingering finish. An exciting wine that I've laid down for at least ten years. 19/20. The Dreadnought gave a hint of bayleaf, bacon and blueberries, finished off with savoury and minerality overtones. Ben said Pinot Noir on steroids and that's the beauty of this wine. Another for ageing. 18/20.
Tasting details
Venue: Johnsonville Community Centre Hall, 30 Moorefield Rd, Johnsonville, Wellington 6037 – Directions.
Cost: Members $12, Guests $16
Presenter: Ben Coles, Global Sales Manager
About Man O' War
The Winemaker at Man O' War is Duncan McTavish. His heart and soul and enormous talent are all reflected in each of the extraordinary wines he crafts at Man O' War. Of singular personality, they are indeed the "definitive translation of our land."
The inaugural graduate of the Viticulture & Oenology degree at Lincoln University in 1998, Duncan spent the following three years working harvest for some of the best producers in Burgundy,
Germany, California, Australia and New Zealand. This apprenticeship culminated in 2001 when he landed a job with one of New Zealand's best wine producers, the Waipara Valley's inimitable
Pegasus Bay. After nearly four years under the wing of Pegasus, Duncan left to develop his winemaking ideas at Waipara Springs. In 2008, Man O' War were fortunate enough to entice
Duncan to go north to Man O' War. He now makes his home on Waiheke living above Onetangi Beach with his partner Vanessa, son Tommy and a baby daughter.
We look forward to sharing the Man O' War philosophy and wines with Ben, who is the Global Sales Manager for the winery.
Man O' War Legacy – 'Discovered' in 1769
The Man O' War story begins with a special piece of land which has a rich history. Located at the eastern end of Waiheke Island, Man O' War is a stunning array of coastal hillsides with high cliffs and pristine beaches forming a ruggedly beautiful coastline.  Continue reading →