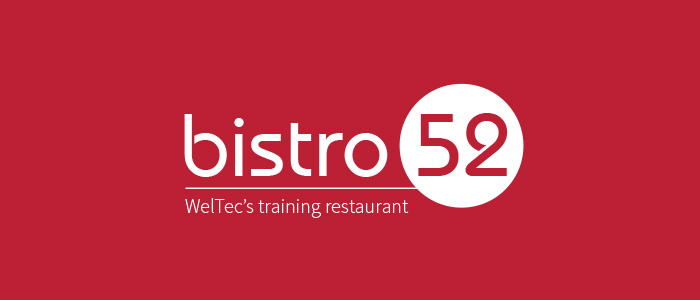 A great place to reward yourself and for a group dinner. WelTec's latest move is a great surprise and one to come back to for more.
If you were fortunate to experience the club's first WelTec experience in July 2012, you would have been appreciative of the work students put into meal presentation and service.
If you were even more fortunate to experience the club's latest dinner in WelTec's new location in Cuba St, you'd be astounded by the attention to detail and quality and the awards won for the facilities redevelopment.
As expected with a new place there were serious, positive changes in students whereby members could watch students at work in new, pristine kitchens and teaching kitchens. I'm sure that has made a difference on students as dinners saw first-hand the pride shown by students both front and back of house.
As members arrived, we were greeted with a glass of bubbly. Some members took up the opportunity to bring wine capped with cork to help student's gain necessary opening skills. From what I saw not a cork was broken. Great work guys and gals.
After finding our seats waiting students took our orders. Even though students may not have tasted the dishes, which is a lost opportunity for students to understand what they are serving, if you were to ask them what they would go for it was either the steak or duck; obviously on sight. Interesting enough, sitting in tables of eight, one side of my table had steak while the other all had the duck.
The entrees were presented to the standard expected with tortellini aficionado's saying it could have been hotter.
The mains were exquisitely presented. The 'steakers' all said they were perfectly cooked. Even bleu steaks were sealed to perfection. The duck was as tender as anything I've had anywhere including when I cook duck. Desserts were simply presented and delicious.
Members I spoke with all said they wouldn't have changed their order as all dishes were superb and could not find any faults.
Several points WelTec should take note of is to ensure salt and pepper shakers are full; several were empty. And if you have table lighting such as candles, use them or remove them from tables.
As my group was leaving, we were asked if we wanted a tour of level 3. We graciously accepted and were taken for a tour. It has been 30 odd years since I was in a training kitchen and it brought back great memories.
Check out WelTec's new facilities.
Congratulations and well done WelTec.
Cheers, Steve
Footnote from editor
The July dinner was a beautiful night, very enjoyable. The food was good and the atmosphere is lovely. The change to Wellington City has resulted in a great venue. The students were good with their service given that this was only their second week. However, there was some spread in service with the first tables finishing the course before the last of that course had come out. One member of your committee commented that he had the best blue steak ever, but some members found the steak was cold. There was some confusion about the vegetables and it was decided that we do need to find out if vegetables are included on the plate or separately. Despite these small problems we feel it is a venue we could use again.
Robin
Venue: 54 Cuba Street, Te Aro, Wellington 6011
Cost: Members & Guest $45.00
We are making some enquiries about the capacity however it is possible that attendance will be limited to 40 people. Anne will maintain a list of those attending. Please ensure you make your intention to attend as soon as possible to ensure a place.
Those attending should be aware that this is a learning experience for the students and that we should let the students open the wine at least at the start.
It's an early start with the bubbles being opened at 6pm, the restaurant will be open from 5:30 pm. People may need to purchase wine from the bar or use their own before 6pm.
Guidance will be given to the students on the distribution of the wine et.c, so patience and understanding are important.
The cost will likely be $45.00 for three courses with corkage, coffee and tea. We must be seated by 6:45pm and finished by 9:30 pm. An order form will be sent out in the very near future. 
WelTec Training Restaurant Dinner Menu
Entree
Pumpkin and Ginger Soup with Toasted Pumpkin Seeds
Grilled Cypriot Halloumi Cheese with Lemon Dressing and Sourdough Sippets (V)
Lamb Shank Tortellini with Pea Puree and Caper & Raisin Dressing
Mains
Confit of Duck Leg with Whipped Celeriac, Chorizo & Corn Succotash
and Marmalade Jus
Porcini Crusted Fillet Steak on Sourdough Croute with Horseradish Butter
and Spiced Oxtail Jus
Dukkah Roasted Corn Fed Chicken Supreme with Smoked Aubergine Puree
and Jus Roti
All Mains served with Seasonal Vegetables and Pommes Dauphine
Dessert
Pear Bavarois with Ginger Beer Sorbet
Bittersweet Chocolate Mousse in Hazelnut Meringue with Raspberry Sauce
Warm Frangipane Tart and Vanilla Roasted Pineapple with Caramel Sauce