Date: Wednesday 11 February, 2015
Time: 7:45 – 9:45 pm
Venue: Johnsonville Community Centre Hall, 30 Moorefield Rd, Johnsonville, Wellington 6037 – Directions.
Cost: Members or guests $10, member with a guest $14.
Presenter: Simon Bell, Sales Manager. An EIT graduate, Simon spends his time ensuring that the public has access to Ash Ridge wines whether through the cellar door or charming the wine trade to ensure that you can enjoy our wines in restaurants and shops around the country.
Wines offered at the tasting are likely to include:
2014 Ash Ridge Sauvignon Blanc
2013 Ash Ridge Chardonnay
2013 Ash Ridge Viognier
2013 Ash Ridge Vintners Reserve Chardonnay
2014 Ash Ridge Rosé
2013 Ash Ridge Syrah
2013 Ash Ridge Vintners Reserve "The Blend"
Background
In January 2014, in their biggest step to date, Ash Ridge opened a brand new Winery on their home site in Maraekakaho. The 100 tonne winery was designed to offer all modern winemaking facilities in a boutique size, allowing them to be truly hands on in their winemaking. The small winemaking team can nurture the process from vineyard to bottle.
Ash Ridge wines are all hand-crafted, single estate wines which reflect the unique vineyard location, the passion for winemaking and the premium quality that they make. Ash Ridge produce premium Hawkes Bay Syrah, Chardonnay and Sauvignon Blanc.
In order to create a range of Bridge Pa Triangle wines they have partnered with the Peet Vineyard. The vineyard is based on an ash pumice ridge of soil, and is planted in sauvignon blanc, merlot, cabernet sauvignon. In more recent years they have also partnered with neighbour Shawn Hill, of Raptor Rise Vineyard, to source Malbec and Viognier grapes. With the vineyard being over the fence and on the same soil they are truly staying local.
Tasting review
Anne opened the evening with a thud and spilt wine. One of the tables with Ash Ridge wines broke sending bottles all over the place. What an introduction for Simon to the Cellar Club. Anne went on to thank Simon and Ash Ridge Wines for their effort in replacing Man O' War at short notice. We'll have Man O' War presenting in October.
A gifted and passionate speaker, Simon spoke in some detail about the Bridge Pa Triangle convincing even the most steadfast Gimblett Gravels supporter that wines from Bridge Pa are worth more than a passing sip. In fact it's those differences that gives Ash Ridge wines that expression of the terroir in which the grapes are grown. This was expressed exquisitely across the range of wines tasted.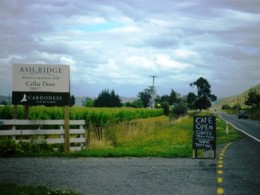 Simon had obviously presented Ash Ridge Wines a few times before because his knowledge of the winery, the wines being produced and allround wine knowledge was outstanding.
After a brief history lesson of Ash Ridge Wines, it wasn't that bad in fact it made you realise just how much effort has gone into developing the vineyard since 2000, Simon got into his stride with the tasting. Simon's wine knowledge allowed members to understand nuances between Ash Ridge and other regions in New Zealand and around the world. This made interesting listening and even taught us a thing or two.
The wines selected for the night showcased all Ash Ridge wine styles. The 2014 Sauvignon Blanc was definitely Hawkes Bay, tropical rather than grassy. The Chardonnays were very fruit driven with the Estate making an exceptional replacement for non-savvy drinkers with its acidity just right for seafood and salads but would go just as well with most meats. The Viognier was elegant and true to its style.
The Syrah was well rounded needing several years, I'd suggest five to seven, to reach its potential so well worth stocking up on.
The showstopper of the night for most members was the first release of five varietals that make-up "The Blend". Well balanced with great mouth feel now just wait ten to fifteen years for it to develop further. We were privileged to be the first outside Ash Ridge's own cellar club to taste this wine.
A great evening with wines representative of the terror from a winery voted Winery of the Year 2014 at the Hawkes Bay Bayleys A&P. The only truly boutique winery to do so.
Tip: Start collecting "The Blend" as I'm sure overtime it will get as great a following as similar wine styles like Quintology, Sophia, Talisman and others.
When next visiting Ash Ridge Wines, ask about joining the Cellar Club.
Cheers Steve