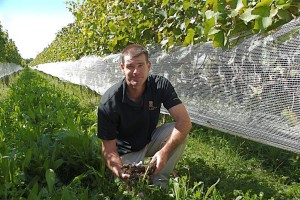 Jonathan plays an integral part in managing Villa Maria's 65 hectare Joseph Soler Vineyard in the Hawkes Bay, 21 hectares of which are fully certified with BioGro.
His role involves the challenge of managing the vineyards organically, while meeting the economic and quality parameters set out by the company and industry.
The Joseph Soler Vineyard currently produces 15 grape varieties and supplies to all three company wineries, Villa Maria Estate (Auckland), Vidal (Hawkes Bay), and Esk Valley (Hawkes Bay). Over the next five to seven years, Jonathan will take the lead role in bringing the entire Joseph Soler Vineyard (44 hectares remaining) into organic production.
Jonathan has always had an interest in wine, however, it wasn't until he had completed his University degree majoring in conservation ecology and discovered work opportunities were scarce, that he began travelling around Europe and learning more about the industry.
His exposure to wine regions throughout Europe piqued his interest so much, that, on returning to New Zealand, Jonathan headed back to University to pursue a postgraduate diploma in Viticulture and Oenology.
Seeing the opportunities in viticulture, he spent several years growing grapes on Waiheke Island (off the coast of Auckland) before migrating south to the Hawkes Bay, to work for CJ Pask and Ngatarawa wineries. He was later employed by Villa Maria to manage the organic vineyard, Joseph Soler.
Jonathan says the key motivation for his work is simply to "grow great wine". He has great confidence in organic production as a commercially viable management system and believes the sustainable benefits are important for the wine industry as a whole.