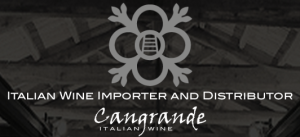 Michele Marai from Cangrande presented a fantastic line-up of some of Italy's best exports – wine, olive oil, balsamic vinegar and finishing with biscotti to go along with 'Il Fortificato'.
Cost – members $14 and guests $18.
Wines tasted include:
Quaffer: Prosecco Superiore Valdobbiadene DOCG – Bortolomiol (Veneto)
Pinot Grigio DOC – Masut da Rive (Friuli – Venezia Giulia)
Soave Superiore DOC "Monte Sella" – Le Mandolare (Veneto)
Negroamaro del Salento IGT – Cignomoro (Puglia)
Nebbiolo Langhe DOC – San Biagio (Piemonte)
Amarone della Valpolicella Classico DOC – Caterina Zardini (Veneto)
'Il Fortificato', a fortified red wine based on Recioto della Valpolicella – Giuseppe Campagnola (Veneto)
Tasting review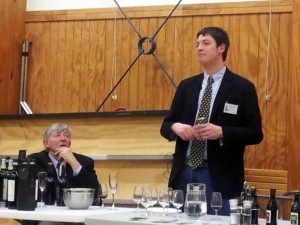 Michele is a very passionate speaker in true Italian style you'd expect coming from Verona; home of Romeo and Juliet.
Michele along with his assistant and taste tester Carlo (Michele's father) introduced members to a fascinating range of quality Italian wines. What proved to be a hit was Michele knowledge of Venetian history and the background of the many smaller family owned wineries assembled as part of his wine portfolio for New Zealand.
Members were treated to a great range of wines including a magnificent Amarone della Valpolicella Classico; one of Italy's top reds. Not for the cost conscious but definitely worth every euro. This wine would compete with the best New Zealand and Australia offers with its purple colour, spicy aroma, gutsy mouth feel and rich lingering tobacco and liquorice finish.
Amoarone della Valpolicella blend includes Corvina which provides the blend's acidity and sour-cherry flavors while Rondinella is used to add colour and body. If you see this on your next wine list, go for it. You won't be disappointed.
My three favourites on the night were the Prosecco, Negroamaro and Amarone. The Prosecco was fresh and lively with bosc pear and green apple notes, plump mouth feel and a lingering finish. The Negroamaro was more what I was expecting from an Italian red; rustic with strong savoury herb notes with a slight acidic finish. The Amarone was the hit of the show; big, bold luscious with a warming ripe plum mouth feel, and finishing like and express train.
A presto! … Steve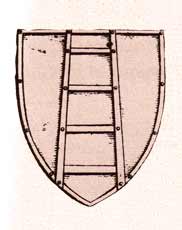 More on Cangrande
Cangrande takes its name from Cangrande della Scala, a great military and political leader and a well known wine lover, who ruled Verona in the early thirteen hundreds, making Verona one of the most powerful forces in Italy.
Through the centuries, Verona has developed into one of the most important districts in the world for wine production, trading and marketing.
In this time, all over Italy, wine making has become an art. Italian wines are still getting better, and in the last few decades more and more producers have focused on improving quality, achieving some impressive results.
Thanks to their work, Italy has now become the number one wine producing and exporting country in the world. Many native grapes have recently become world famous, and the effort of the winemakers that chose quality over quantity is paying off.